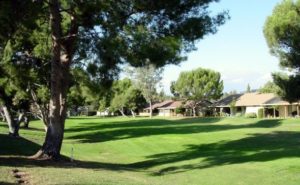 Leisure Village is a beautiful, active senior community located in Camarillo, California. Leisure Village is nestled in the hills of the Santa Rosa Valley with a gorgeous backdrop of the Santa Monica mountains. It is a community filled with active, friendly residents making Leisure Village a fun and unique place to live. This community has 2,136 homes. All of the homes are one story, ranch style homes to provide easy access throughout the home. Twenty-five models were originally built ranging in size from one bedroom at 866 square feet to two bedroom with a den at 1,850 square feet. In addition to the many homes still mimicking the builder's original design, many owners have customized their homes both in look and in size. Keep in mind in Leisure Village if you have seen one home… you have not seen them all!
Leisure Village is located on 440 beautiful acres and was built by Leisure Technology. The community was developed over 10 years from 1973 to 1984 in three phases. In addition to the 2,136 homes, the community includes: an 18 hole par 3 golf course, a recreation center, a swimming pool and spa, tennis and paddle tennis courts, horseshoe pits, shuffleboard courts, RV parking, a fitness center, various meeting rooms, 185 acres of beautifully landscaped common area, and much more. All of the amenities are impeccably maintained by the association.
Leisure Village is a planned-unit development and is governed by an elected Board of Directors. Along with the Board of Directors are many committees made up of residents who serve with the association's professional staff. Leisure Village is age restricted; formally the community complies with State Civil Code 51.3 and the Federal Fair Housing Act, and it is defined as a senior housing development—meaning one resident must be at least age 55.